An early sculpture of Dihunthe Palenfo
Regular price
€700,00 EUR
Regular price
Sale price
€700,00 EUR
Unit price
per
Sale
Out of stock
An early sculpture of Dihunthe Palenfo, from his third creative period, one of the most famous pupils of Sikire Kambire, a fragmentary male figure, the left arm touching the shoulder, extremely heavy wood from the Sankolo tree, which no longer grows in this region; ochre to greyish patina.
"Dihunthe Palenfo, ein Birifor, wurde 1925 in Tambili, einem rund sechs Kilometer südwestlich von Gaoua gelegenen Dorf, geboren. Dort lebt er bis heute als Bauer und Bildhauer. Sein Vater, der Werkzeugschäfte schnitzte, versuchte dem Sohn, der in jungen Jahren von sich aus bateba zu schnitzen begann, diese Tätigkeit zu verbieten. Erst als Dihunthe einen, wie er sagt, "sehr schönen bateba" an Europäer verkaufen konnte, lenkte der Vater ein." Fortsetzung siehe Piet Meyer, page 151/152.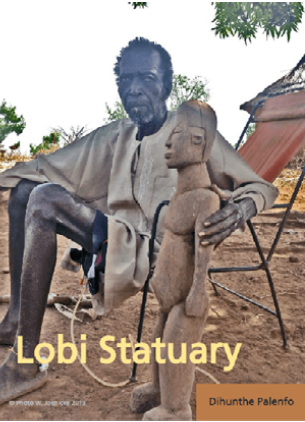 Photo wj. Dihunthe Palenfo a few weeks before his death in 2016. After many years of work and suffering from various diseases, but always happy when I visited him in the last decade of his life.
Lit.: Die Schaffensphasen von Dihunthe Palenfo, Tambili. The Thomas Keller Homepage with downlowds of his publication. Piet Meyer: Kunst und Religion der Lobi, Zürich 1981, p. 151/152.
Height: 78 cm
Weight: 7,5 kg
Share