Regular price
€10.000,00 EUR
Regular price
Sale price
€10.000,00 EUR
Unit price
per
Sale
Out of stock
A very large Adja pair of guardian figures of a courtyard, male and female, each standing on a 48 cm high plinth, the female figure wearing chains with kauri shells on both ankles, the male a bronze ring on the left foot, the straight legs merging into the equally straight torso, the visible genitalia very abstracted and reduced in size, below the nable and at the level of the "shoulders" a carved double ring, a bell amulet is attached to both necks, twelve bells in the female and ten in the male figure. These bells have a protective function against evil spirits and are often hung on doors in the entrance area. Bells are associated with the divine and supernatural, the heads with wide-open large mouths as if they were singing, the two heads are very similar, the female is slightly larger and slightly more tilted backwards, and the blue patina refers to ritual contexts.
More well-known are the Aja sculpture made of terracotta, but stylistically they are similar Lit. Karl-Ferdinand Schaedler Erde und Erz, Panterra Verlag, S. 190, Abb 345
"Eine neuere Entwicklung hat sich offenbar entlang des 400 km langen Mono-Flusses entwickelt, der an seinem Unterlauf, die Grenze zwischen Togo und Benin bildet. Es sind Köpfe, Figuren mit einem und mehreren Gesichtern und Oberkörpern - voluminöse Objekte, die an die Gestaltten des des südamerikanischen Malers Botero erinnern..dabei macht deren Bezeichnung kronkoronbali - dh "Kinder von Damals" die Wiedergeburtsvorstellung der Ewedeutlich, die eine gewisse Gleichstellung von Tod und Geburt beinhaltet: Das eine ist Herkunft, das andereRückkehr. Da diese Kunstwerke vor allem im Gebiet des Mono Flusses verwendet werden, obwohl sie offenbar bis in den Süden Ghanas gelangen, sollen diese Objekte im Folgene´den nach K,H. Krieg (frdl. Mitteilung) als "Mono-Fluß" bezeichnet werden." Schaedler aaO.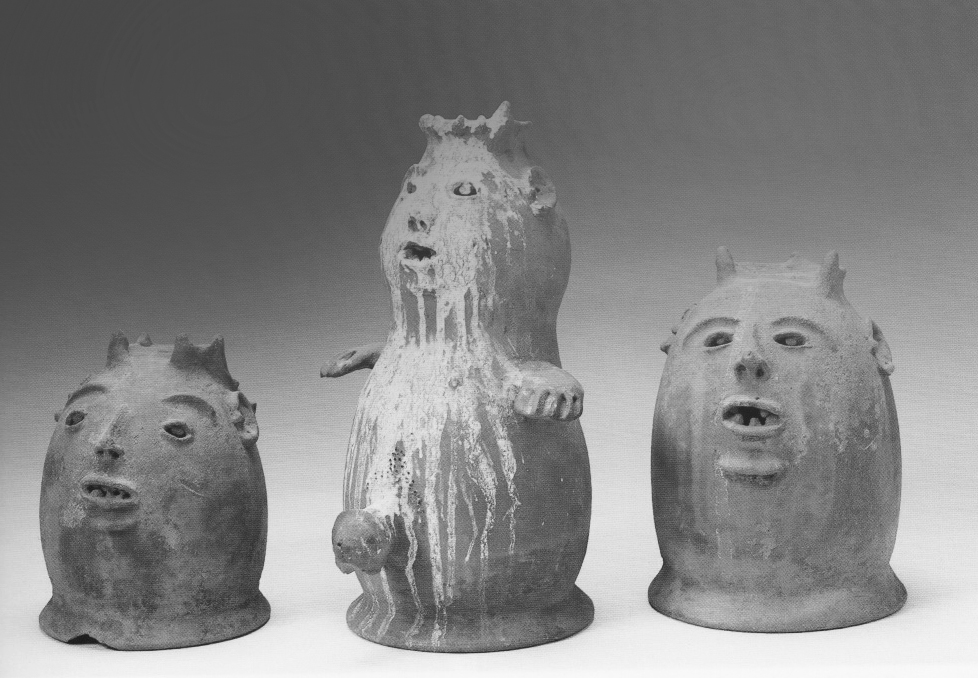 Schaedler S. 190/191, Aja Terracotta sculptures
10.000 - 12.000,- Euro
Height: 200/ 200 cm
Weight: 27 kg / 27 kg
Share
View full details