A remarkable Senufo maternity
Regular price
€4.200,00 EUR
Regular price
Sale price
€4.200,00 EUR
Unit price
per
Sale
Out of stock
A remarkable Senufo maternity of the Boundiali region, about 100 km westwards from Korhogo, seated on a four-leg stool, holding two children on her knees, an elaborated, striated hairdress beneath a fascial plane with bulging eyes and a small pointed mouth, showing the teeth, the tapering, big breasts framed by rectangular shoulders, ending up in open work arms; various brownish to occre patina. There are only three examples of this sculpture/carver known in official publications.
Over the years we collected two other sculptures of the same carver or its workshop from the Boudiali region.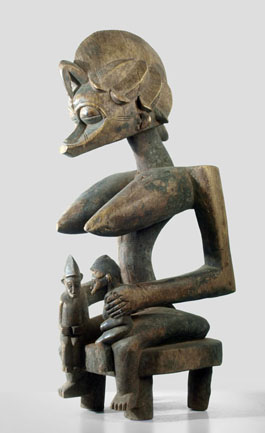 A sculpture of the same carver/workshop collected around 2008 close to Boundiali.
4.200 - 4.800,- Euro
Height: 71 cm
Weight: 10,6 kg
Share