Regular price
€5.500,00 EUR
Regular price
Sale price
€5.500,00 EUR
Unit price
per
Sale
Out of stock
A rare and fine example of a Guro mask from the region around the town of Bouaflé, in the southeastern part of the Guro territory, near the Yaure border.
The main mask appears rather small compared to the pair of figures crowning it.
Slanted eyes, a small mouth, and a concave curved nose give the shape an elegant expression, additionally emphasized by the hairstyle with fine jagged lines and the ornaments on the hairline, on the edge, there are four fastening holes at the height of the ears and below.
The following lovingly embracing couple above the mask part, man and woman, shows facial physiognomy similar to that of the main mask, on their heads two different objects, one of the hands is on the hips, the other goes into the mutual embrace;
relatively short legs with a slim torso;
dark patina with signs of age.


A similar example of that kind of Guro mask was rediscovered in 2014 and caused a sensation because it had only been published once in the literature to date, by Nancy Cunard, in Negro: Anthology (London, 1934, p. 663). This rare book was recently the subject of an exhibition at the Museum on Quai Branly. Formerly in the collections of André Breton and Charles Ratton, this mask has disappeared from public view since 1931. It reappeared on the market after being considered "lost" for more than 80 years. You can read everything about the mask in the catalog. Bertrand Goy's text contains a very interesting paragraph (in French) on the guro, its history of discovery, and this master carver.
Lit.: Nancy Cunard, in Negro: Anthology (London, 1934, p. 663), edited by Nancy Cunard.

This photo shows a wall of André Breton's apartment. Here you can see that there hung a similar mask attributed to the "Master of Bouaflé".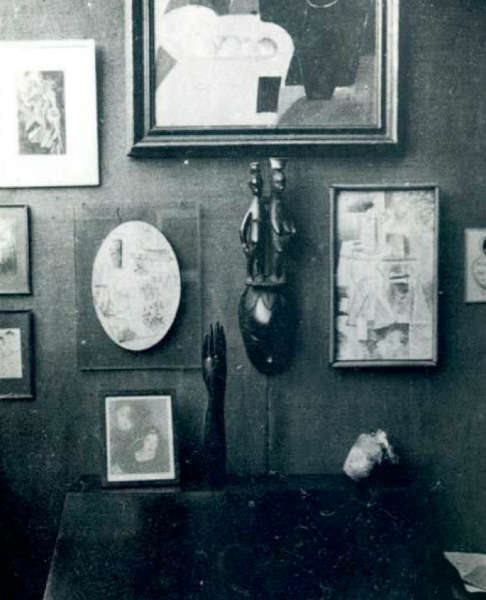 5.500 - 6.000,- Euro


Height: 50 cm

Weight: 930 g
Share
View full details