Regular price
€2.400,00 EUR
Regular price
Sale price
€2.400,00 EUR
Unit price
per
Sale
Out of stock
A fragmentary Baule monkey, holding a vessel in its hands, the legs in a bent position, a loincloth covers the male genitals, a braided textile ring around the short neck, the teeth in open work manner with imposing canine teeth, the gaze of the bulging eyes is directed upwards and underlines the submissive posture of this monkey sculpture; gray to brown surface, partially flaked off,
"Baule Monkeys are powerful objects, which are forbidden to be seen in public display. Monkey figures share stylistic features with the mens´s sacred masks, and have some of the qualities of secrecy and danger to women. They combine animal and human traits in such way that it is nearly impossible to separate them, and they have the prominent teeth and boxy muzzle typical of the masks. Both also receive sacrifical offerings directly on the sculpture, and are associated with the bush. Mbra monkey figures, for example are kept in the village, but "fed" with sacrifices in the bush."
Susan Vogel, 1997:238

"In Baule culture, cupbearing monkey statues, commonly known as "gbekre" since their first mention in 1900 by Maurice Delafosse, belong to the category of amwin, or "objects of power". They were used by men-only initiation societies for a number of purposes, both functional – as a basis for prophylactic practices, linked to agrarian rites or to a form of divination known as mbra (Bouloré in RMN, 2000: 107 et Vogel, 1997: 221-230) – and iconographic, each type being designated by a specific term (aboya, mbotumbo, ndyadan, gbekre...)." Sotheby's

Claessens, B., Baule Monkeys, 2016, without any doubts the best book about this topic.

2.400 - 2.800,- Euro

Height: 70 cm incl. stand
Weight: 6,1 kg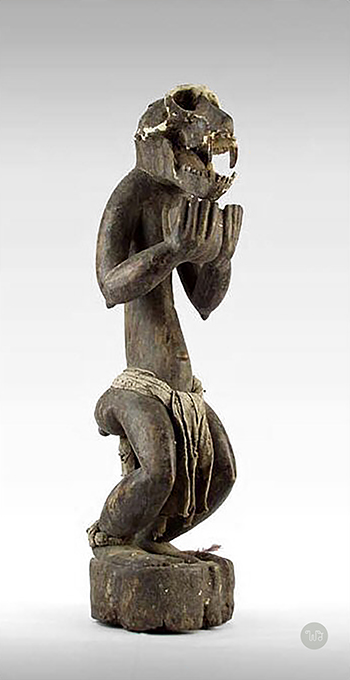 Somtimes these wooden Baule sculptures have real animal skulls of a monkey, like this exemplare of the former Wolfgang Jaenicke private collection, collected near Bouaké, Ivory Coast, 2008, photo wj.
Share
View full details