Regular price
€3.200,00 EUR
Regular price
Sale price
€3.200,00 EUR
Unit price
per
Sale
Out of stock
A Bronze Plaque in the style of Benin/ Ife, Udo or Tsoede, the semi-oval shield is decorated with monkeys, frogs, and snakes on the ground that we know from the well-known four-leaf ornaments of many Benin plates. On the upper edge of the shield, we see three heads in half profile. We have already encountered the middle head in other figures or busts, which can probably be assigned to the Tsoede style. The lateral, almost identical heads are characterized by conspicuous forehead wrinkles and faces that characterize all three heads; all three heads and the animal representations are covered with a greenish patina, which is apparently multi-layered, but in general, the plate is in good condition. Neither von Luschan, "Die Altertümer Benins", Pitt Rivers Museum, "Antique works of Art from Benin" nor Digital Benin knows comparable specimens, although Frank Willet mentioned in his "Ife" bookplate 97-99 three fragments, which are very close to the two sculptures and the plate, which came from a private collection in Lomé, Togo.
Cases like these show how important it is for Benin-Objects and its related objects from private collections to publish on Digital Benin. Not only for scientific reasons, also in cases objects are stolen, there could be a broader platform on DB to translocate these objects. In particular, because the Art Loss Register refuses to register Benin objects.

To verify the age of the bronze objects collected here, there is currently no reliable method that finds universal scientific recognition. This leads to the difficulty of distinguishing between so-called "originals" and so-called "copies". To this day we do not know reliably how old the bronzes stolen in Nigeria in 1897, which are currently the focus of discussions, are. Inquiries to museums and their so-called experts went unanswered. We only know one thing: What we collect are unique pieces of different artistic quality, which are waiting to be scientifically examined, regardless of their location in a specific time window. It would make sense not only to catalogue Benin and Ife objects and their surroundings from museum collections, as Digital Benin is trying to do but also to focus attention on those works of art in private collections.
Height: 35,5 cm
Weight: 2,7 kg
Related exemplares from the same source: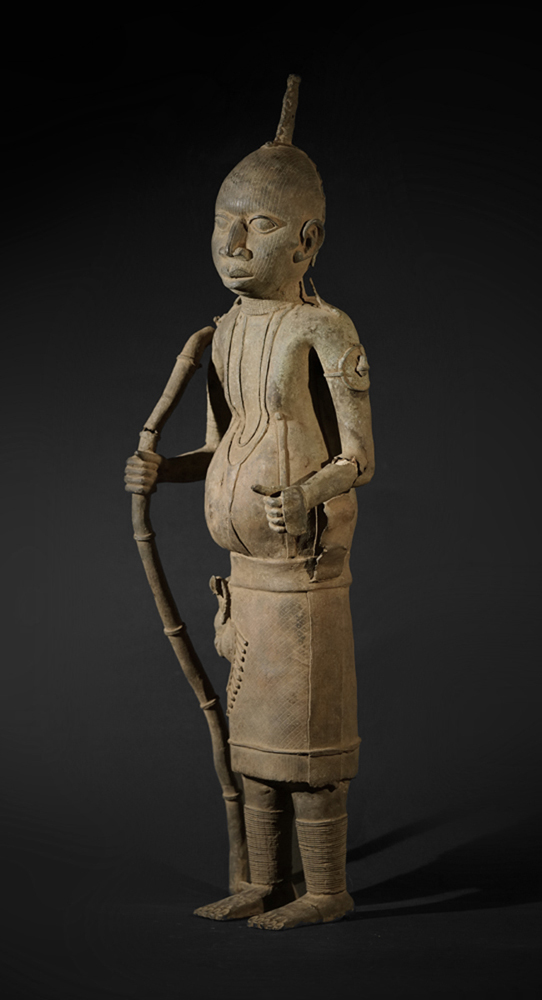 Height: 110 cm, Weight: 15,4 kg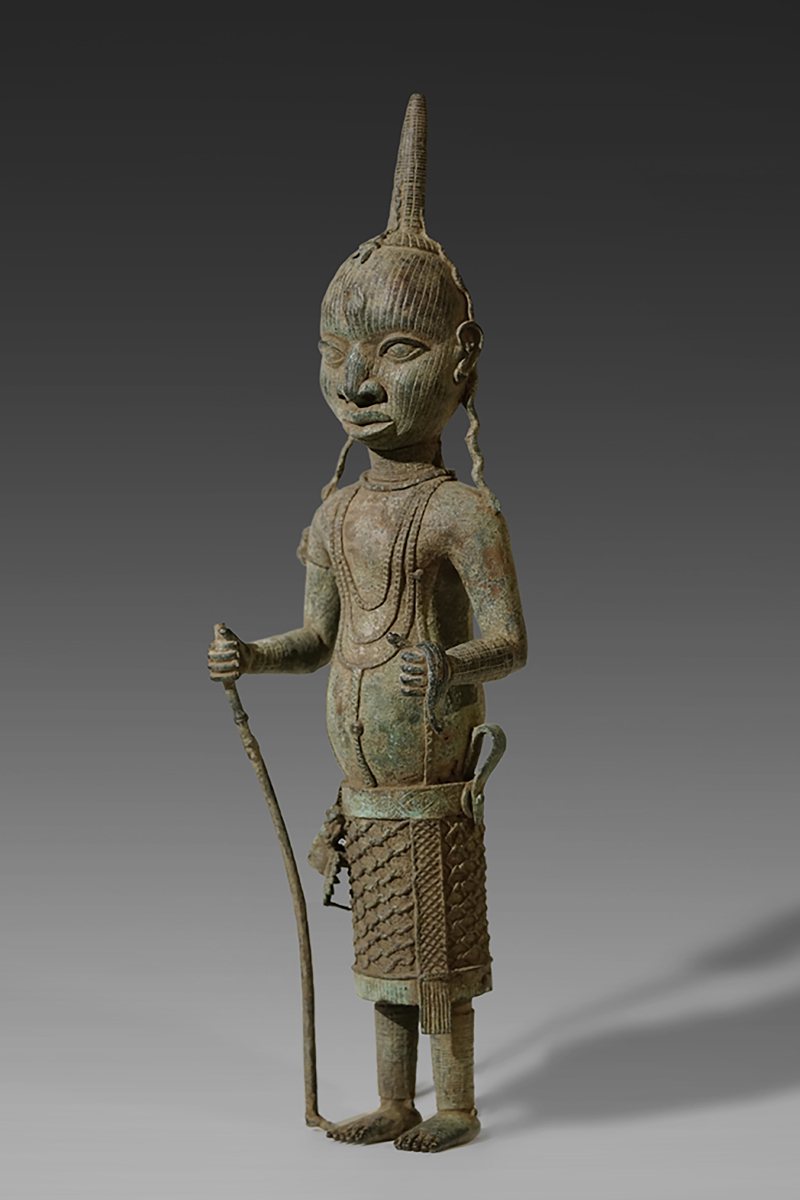 55 cm, Weight: 3,7 kg
Frank Willet, Ife, zweite Auflage 1975, plate 97 - 99. Drei fragmentarische Reliefplatten, die man in Benin fand. Sie weisen jedoch Charakterzüge auf, die an Ife- und Tsoede Bronzen erinnern und damit an Echselbeziehungenzwischen den drei drei Stilen denken lassen. Bei der Figur an der Reliefplatte unten rechts fehlen rechter Vorderarm und stab. 1975 angeblich Museum Benin.

Although these three fragments are important link artefacts to Benin, these objects are not mentioned in Digital Benin. Are they no longer in the museum in Benin City? Or was it assumed that these bronzes do not fit into the Benin context because they are stylistically close to Ife/Tsoede? But it is precisely the mutual influence of the Kingdom of Benin on its neighbouring and partially usurped dominions that is of outstanding importance for each Benin research.

Also striking is the considerable discrepancy between the Benin bronzes of the National Museum in Lagos, Nigeria, published on Digital Benin and the specimens published in Benin literature in the 1970s and 1980s. (A listing will follow shortly). There are two explanations for this. 1. The National Museum in Lagos has provided Digital Benin with an inadequate list of Benin objects. or 2. The objects are now "translocated" and are now in a different location. It might be desirable if the "Translocation" seminar at the Technical University of Berlin, initiated by Bénédicte Savoy, would also pursue this question.
Share
View full details