Regular price
€15.000,00 EUR
Regular price
Sale price
€15.000,00 EUR
Unit price
per
Sale
Out of stock
A Benin animal bronze, "A panther hunts an antelope" in lost wax manner.
Probably one of the most beautiful Benin animal bronzes that we have ever seen. The type of depiction is reminiscent of the first jungle painting that Henri Rousseau painted in 1905 and which is now in the Fondation Beyeler.
Rousseau's first jungle painting, Tiger in a Tropical Storm, was rejected by the Académie de peinture et de sculpture for their official Paris Salon, but he was able to show it at the 1891 Salon des Indépendants. Despite his increasing reputation, Rousseau continued to exhibit his works at the annual Salon des Indépendants, but The Hungry Lion was first shown at a third show, the Salon d'Automne, in 1905, alongside works by Matisse and Derain. Rousseau wrote a longer subtitle or caption to accompany his painting: "Le lion, ayant faim, se jette sur l'antilope, la dévore. La panthère attend avec anxiété le moment où, elle aussi, pourra en avoir sa part. Des oiseaux carnivores ont déchiqueté chacun un morceau de chair de dessus le pauvre animal Versant un pleur! Soleil couchant." "The lion, being hungry, throws itself on the antelope, [and] devours it. The panther anxiously awaits the moment when it too can claim its share. Birds of prey have each torn a piece of flesh from the top of the poor animal which sheds a tear. The sunsets. The magazine L'illustration printed a copy of the work in its edition of 4 November 1905, with works by Matisse, Derain, Cezanne and Vuillard" Source Wikipedia.
Dimensions: 52/ 26/20 cm
Weight: 6,2 kg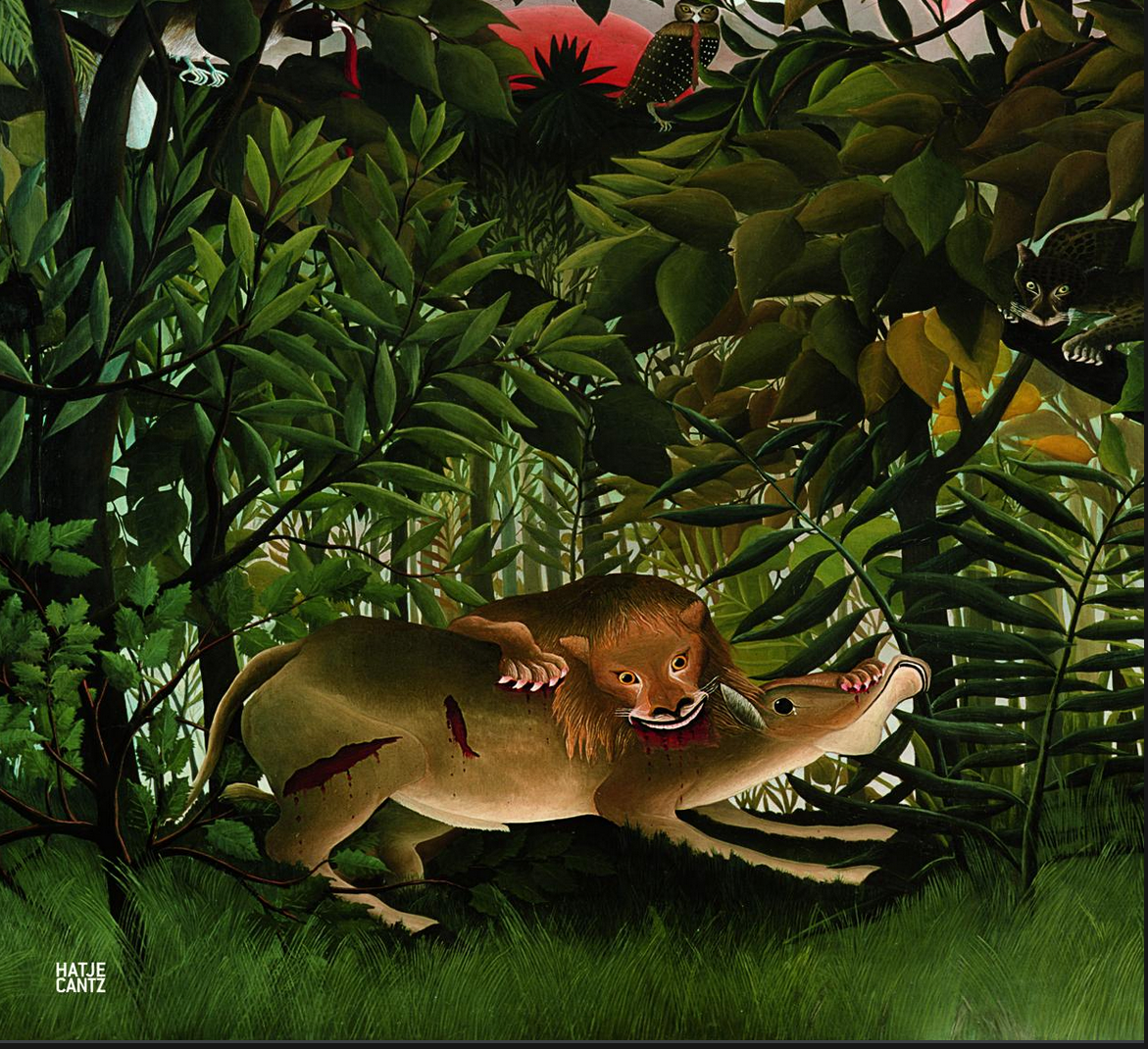 Henri Rouseau, Fodation Beyeler , The Hungry Lion Throws Itself on the Antelope (Le lion ayant faim se jette sur l'antilope) is a large painting created in 1905. Following Scouts Attacked by a Tiger the previous year, The Hungry Lion was the second jungle painting to mark Rousseau's return to this genre after a 10-year hiatus caused by the generally negative reception of his 1891 painting.
Share
View full details