A Senufo Equestrian figure
Regular price
Sale price
€0,00 EUR
Unit price
per
Sale
Out of stock
A Senufo Equestrian figure, Ivory Coast, a horse with a cat-like face, carrying a naked rider with short angular legs and emphasized genitals, a curved torso with a projecting navel, rounded shoulders, the arms carved close to the body and angled, in the left hand holding the reins, wearing two bracelets around each upper arm, a cylindrical neck supporting an elongated head with a protruding open mouth showing the gritted teeth, a long nose leading to high arched brows, the closed eyes are almond-shaped and the ears are worked as protruding triangles, scarification marks designed as lines and zig-zags from the eyes to the ears and on the shoulders, the rider is only wearing a conical hat; heavy wood, reddish patina, traces of age and ritual use.
The Senufo's associate horses with leadership, wealth, status, hunting and militarism. Riders sculpted by Senufo artists are often armed with spears at the ready. They represent the multi-dimensional powers of madabele (forest or 'bush' spirits). In equestrian statuary a bush spirit is shown as a forceful, well-armed leader, or fanhafolo ('power-owner'). Bush spirits are capricious, fast-traveling, nocturnal, mysterious and aggressive. (...) Such figures are display pieces in a diviner's or priest's shrine where. . . they connote luxury, good taste and prestige' (Cole 1983: 11-13).
Lit.: Burkhard Gottschalk: Senufo. Massa und die Statuen des Poro, 2002; Staatliche Museen der Preußischer Kulturbesitz, Museum für Völkerkunde Berlin, Die Kunst der Senufo, Elfenbeinküste. Mit einem Beitrag von Till Förster, 1990; Museum Rietberg Zürich, Die Kunst der Senufo aus Schweizer Sammlungen, 1988; Susan Elizabeth Gagliardi, Senufo unbound. Dynamics of art and identity in West Africa, Cleveland 2015.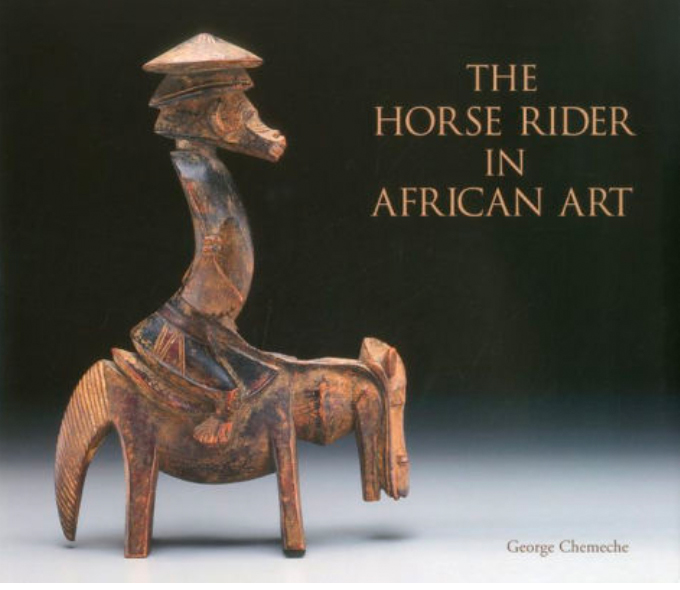 "Horses are very rare in Africa. The few to be found west of Sudan, from the lands of the Sahara and Sahel down to the fringes of the tropical forests, belong to the king, the chief warrior and to notable persons. Due to the dense humidity of the tropical rainforest and the deadly tsetse fly, only restricted numbers of horses survive. And yet rider and mount sculptures are common among the Dogon, Djenne, Bamana, Senufo and the Yoruba people. The Akan-Asante people of Ghana and the Kotoko of Chad produced a good deal of small casting brass and bronze sculptures. Some of the artists could barely even have caught a glimpse of a horse." George Chemeche.
700 - 800,- Euro
Height: 56 cm
Weight: 3,4 kg
Share