Regular price
€1.500,00 EUR
Regular price
Sale price
€1.500,00 EUR
Unit price
per
Sale
Out of stock
A Benin Bronze bell of trapezoid form, surmounted by a seated figure of a Benin-Oba, four loosely hanging tiny bells decorate the base on which the figure sits, the lower part of the bell shows abstract faces with bulging closed eyes, snakes snaking from the eyes to the corners of the protruding tightly closed mouth, one snake lying on the bridge of the nose and looking out over the tip, the other two sides show an openwork pattern on which a mudfish in the middle and incised waves around it, braided bands line the edges, a breastplate over the sleeveless robe, the figure holds a bell and another object in his hands, two bangles on each wrist and ankle, the face finely elaborated, a feathered headdress, between his feet is attached the swing of the bell, which has a beautiful round sound.

"Brass bells are an essential feature of Benin ancestral altars. Arrayed along the front of the altar, they are rung in order to summon the ancestors to hear the prayers of their descendants and to partake of the offerings left there. As seen in this example, altar bells in Benin generally take the form of a truncated, four-sided pyramid." Source: MET, NY.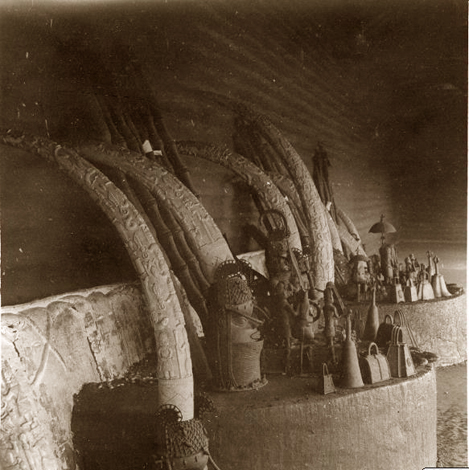 Altar, Benin City in 1936, with Benin bells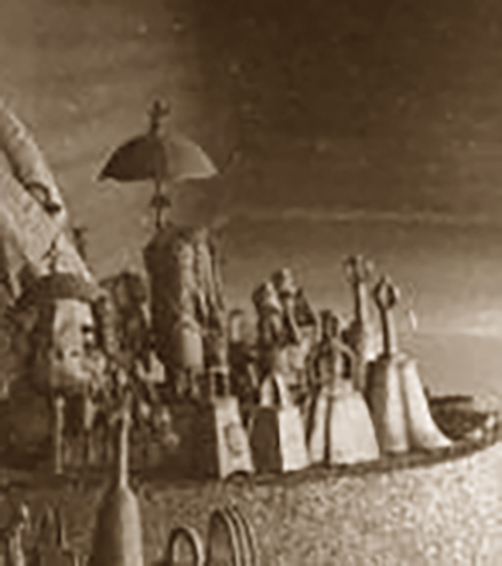 Bells with figurative handles can be seen on the right side of the photo above (here's a detail). Obviously much rarer are the bells with simple handles.
More information on request.
Height: 28 cm
Weight: 1750 g
Share
View full details