Description
A Yoruba Bronze of a hunter, South West Nigeria, positioned on a rectangular base with a chiselled border, flattened feet, legs bent, the elongated torso wearing Yoruba a hunting costume, a gazelle on the shoulders, a large head with prominent eyes, a cup-shaped cap on the head, a leopard to the left of the hunter's foot; greenish oxidised patina.
Related exemplare: A Benin-hunter from the 1897 expedition by Lt. Stuart Wilmot Nicholson (Later Adml. Nicholson, O.B.E. Probably 17th-18th cent. work from IGBIRRA or IGALA, IDAH region on Niger c. 90 miles N-E of Benin.
This object can be visited during the auction in the Gallery Wolfgang Jaenicke. It will not be sent and can only be picked up. After the end of the auction, the highest bidder can have the object for further analysis by its own account without significantly affecting the object in its substance. For this analysis, the winner of the auction has a period of 14 days. The object is from an old African Collection. Restitution organizations and individuals who are intensively concerned with restitution issues were informed about the object. See also Cultural Property Protection Law (Kultur Gut Schutz Gesetz – KGSG).
TL Test Kotalla 300 years +/- 25 percent.
4.000 – 5.000,- Euro
Height: 64 cm
Weight: 16,8 kg
A small guided tour of Ife and Benin bronzes.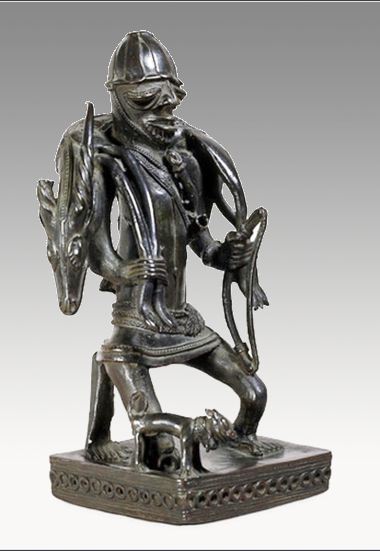 A Benin-hunter from the 1897 expedition.