Description
A female Senufo sculpture of the Boudiali region, posted on a four leg stool; various brown to reddish patina.
related exemplare from the same carver.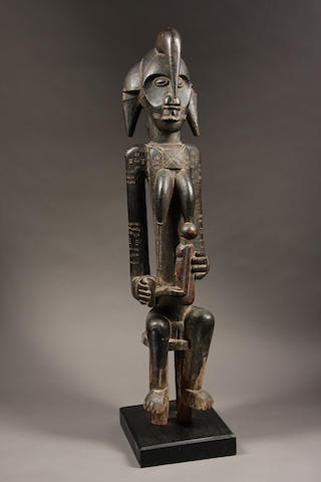 Source: Scott Rodolitz.
"While the Senufo blacksmiths and professional sculptors carved countless small statues, generally under 30cm in height, those of larger size are relatively rare…
…Such large-scale statuary was occasionally commissioned in the past by the male Poro societies and by their female equivalent, the Tyekpa. In the case of the Poro, a pair of large statues was sometimes placed on public display at the wooden shelter where the initiates gathered to celebrate funerals, a custom now abandoned owing to frequent theft of the statues. The societies sometimes commissioned statues to be carried in procession on the heads of the initiates, or placed on the ground to serve as a focal point for dancing…
…Among the finest of Senufo sculptures are the large ritual pestles or pounders carved as a male or female figure. These were formerly owned by many Poro societies both in the Ivory Coast and in Mali. Initially carved as pairs, it sometimes happened that one broke or decayed to the point of being unusable, in which case a replacement would be commissioned, often from a different carver. It could thus happen that a functional 'pair' kept in the sacred forest was in fact by two different carvers…
…These sculptures were used mainly (but not exclusively) in the various rituals that took place before and after the burial of a deceased Poro elder. They are carried by initiates who visit the house of the deceased. One is sometimes placed beside the corpse in its shroud at the public ceremonies that follow. They then accompany the corpse to its burial place, swung and pounded on the ground in time to the solemn music of the Poro orchestra. When the internment is complete and the soil rapidly heaped over the grave–which occurs shortly before nightfall–a male initiate may, in a final and decisive gesture, leap into the grave with a pounder and beat the soil seven times. This pounding ensures that the spirit of the deceased person does not linger in the vicinity, but passes on its way to the 'village of the dead'. (T.F. Gallard, Africa: The Art of a Continent, 1995, pp. 458-59).

Cf. Goldwater, Robert, Senufo: Sculpture from West Africa, The Museum of Primitive Art, New York, 1964, figs 107 and 108 for two works with similar features and most likely from the same region.
2.800 – 3.200,- Euro
Height: 70 cm
Weight: 3,5 kg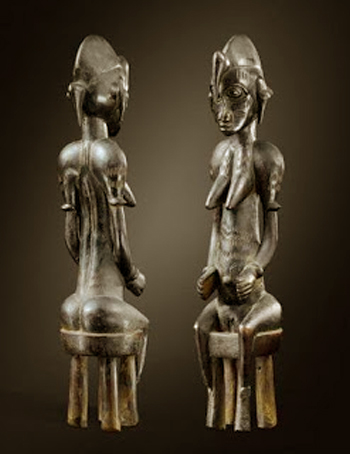 Selon Glaze (in Barbier, 1993, vol. II: 24) concerned a comparable statue attributed to the workshop of "Kolia", the sculptures carved on this scale were "requested by the owners of large Yasungo shrines as well as by the chiefs of the poro society. Some owners of yasungo would have kept these spirits clean and oiled, rather than covering them with sacrificial matter as is generally the case ".