Description
A female Senufo Rhythm Pounder, called "Déblé", Ivory Coast, central Korhogo region, coming from the village Diametènè, origin M. Cabinet. standing on a tall cylindrical base with two carved rings, slender slightly bent legs, the abstract elongated torso is decorated on the front and the backside with oval thick scarification marks, also at the navel and above the pointed breasts, a loincloth covers meagerly the expansive gluteal, rounded shoulders, the arms are each surrounded by two carved bangles and one more at each wrist, the hands clenched to fists are resting in front of the abdomen, on the long and slender neck with a collar around it rests an oval head framed by a domed coiffure which consists of several ponytails arranged around the head and a crest on the top, directly above the pointed chin lies a square protruding mouth, the nose is very long and ends in an snub, the eyes are two rings lying one inside the other, the fascial plane with its fine stylized features shows a high degree of abstraction; fine greyish surface with traces of Kaolin, signs of cultic use in particular at the upper arms and the base, heavy, hardwood.
Lit.: Wolfgang Jaenicke, Great African Art by a Great African Art Collector and Dealer: Mr. Kaba Cabinet, Ivory Coast.
1.600.- 2.000,- Euro
Height: 102 cm
Weight: 5,1 kg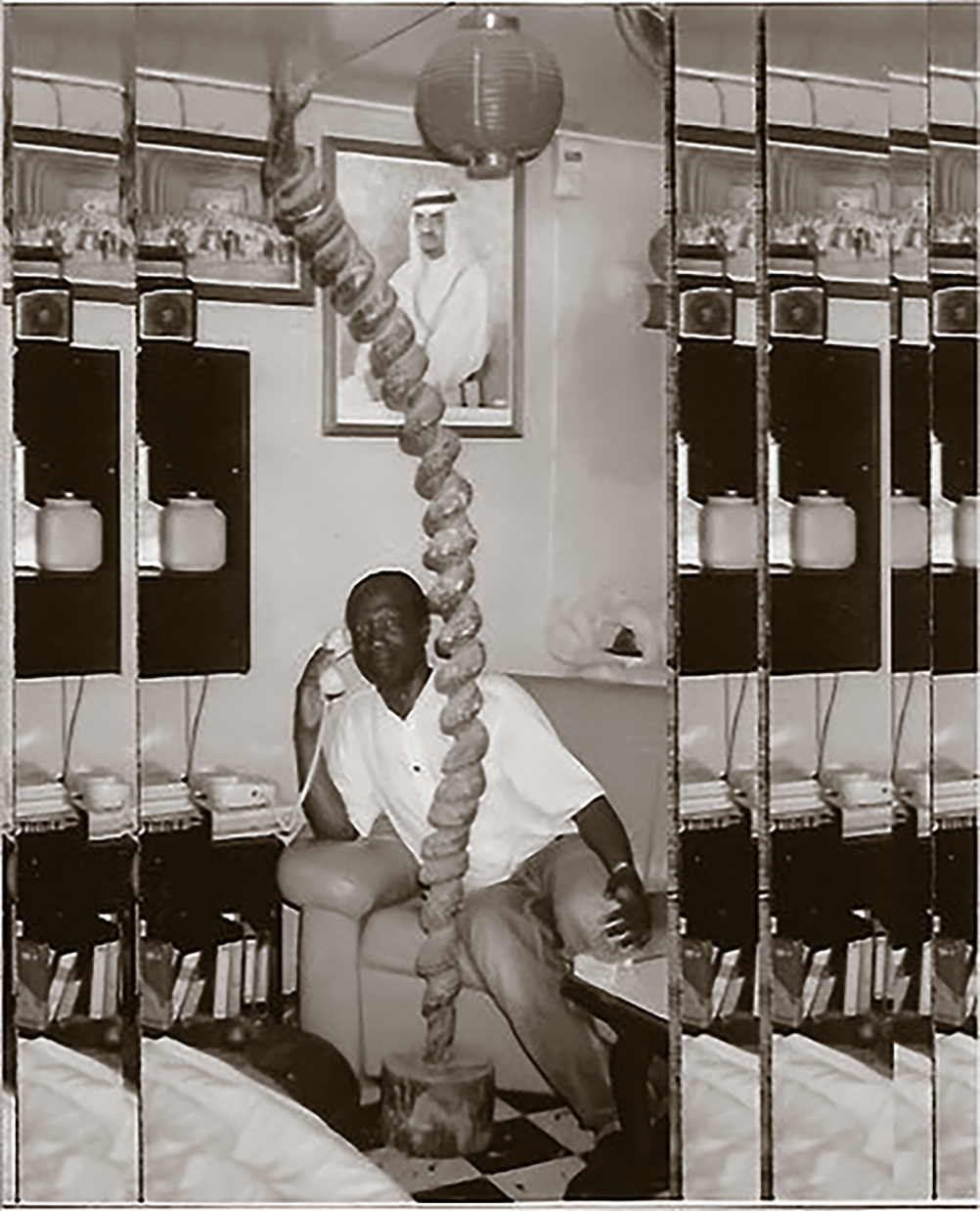 M. Kaba Cabinet in his office in Bouaké, proud having a"téléphone fixe" to communicate with his clients in Europe, before the telephone portable spread to Africa. This photo also shows the prosperity of the well-known antique dealer. Few people in Bouake had such a phone at that time, and the mirror in the photo multiplies this status symbol.