Description
A Bamana Couple, The female "Do N'yeleni" ( sometimes Jonyeleni in Lit.) statue from the village Njala in the Bougouni region, Mali, about 10 km from Massigue, standing on a flat base, sturdy short legs, a loin cloth, the torso prolongued, konical breasts, square shoulders, long thin arms, little hands, an elongated, curved neck, a small protruding mouth, a long nose and tiny round eyes, the hairstyle consists of a braid bent into a triangle, scarifications in the form of dots, lines and zig-zag lines; dark brown patina, an old stapled repair with a metal bracket on the right leg. The male sculpture with the same scarification patterns, a metal bracket at the torso, in the left hand an axe and in the right a basket, the elongated neck with a pronounced Adam´s apple, the fascial plane similar like the female figure but instead of the female headdress a goatee.The much more rare male figure is presented the first time together with the well known female type of this sculpture.
"Social changes in the twentieth century have greatly impacted the role of initiation societies in Bamana culture. With transformations such as the introduction of Islam, colonialism, and urbanization, initiation societies have become a less essential element in Bamana life. As a result, fewer and fewer villages maintain ritual objects and sacred places associated with initiation societies such as Jo."
Lit.: Salia Malé, Bamana, the Art of Existence in Mali, Rietberg Museum, 2003, 143-162, cat. 134. Jean Paul Colleyn, Visions of Africa,, Plate 2, Wolfgang Jaenicke, Different patinas on Jonyeleni and Gwandusu sculptures.
"With this finely carved object, the sculptor goes far in reducing the human body to geometric shapes. The head combines human an animal features, with the position of the feet, pointing inwards, corresponding to the discreet and respectfuldemeanour a woman is respected to keep. .." Jean Paul Colleyn aaO.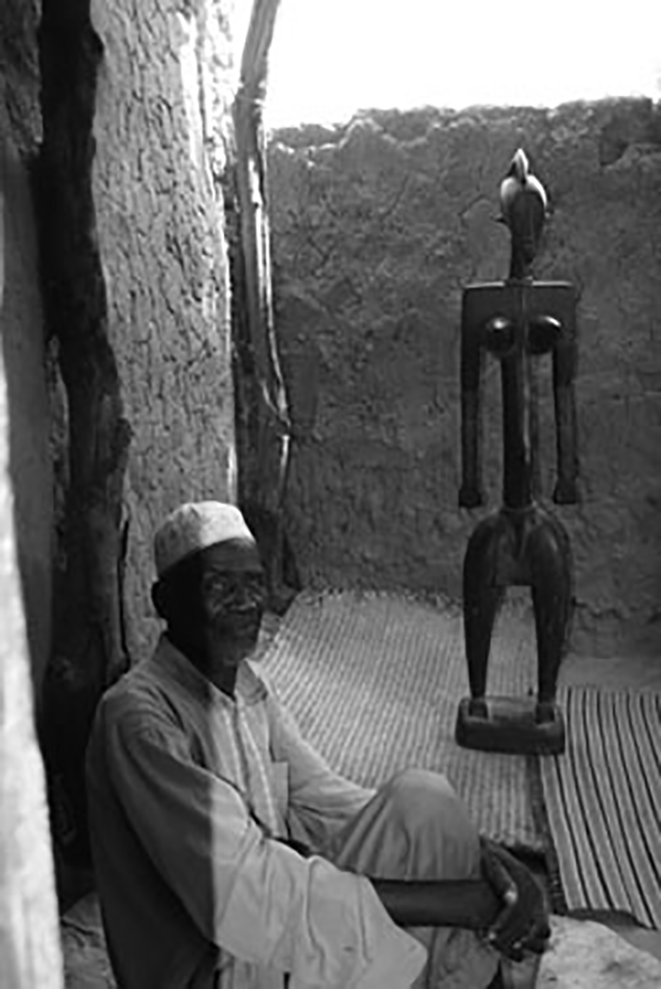 Photo wj, the same carver or workshop we collected in 2008, in front of the picture the "chief de village" , who allowed us to purchase this large sculpture after a long debate among the
male members of the village. Now in a Spain Private collection.
Height: 120 cm
Weight: 13,2 kg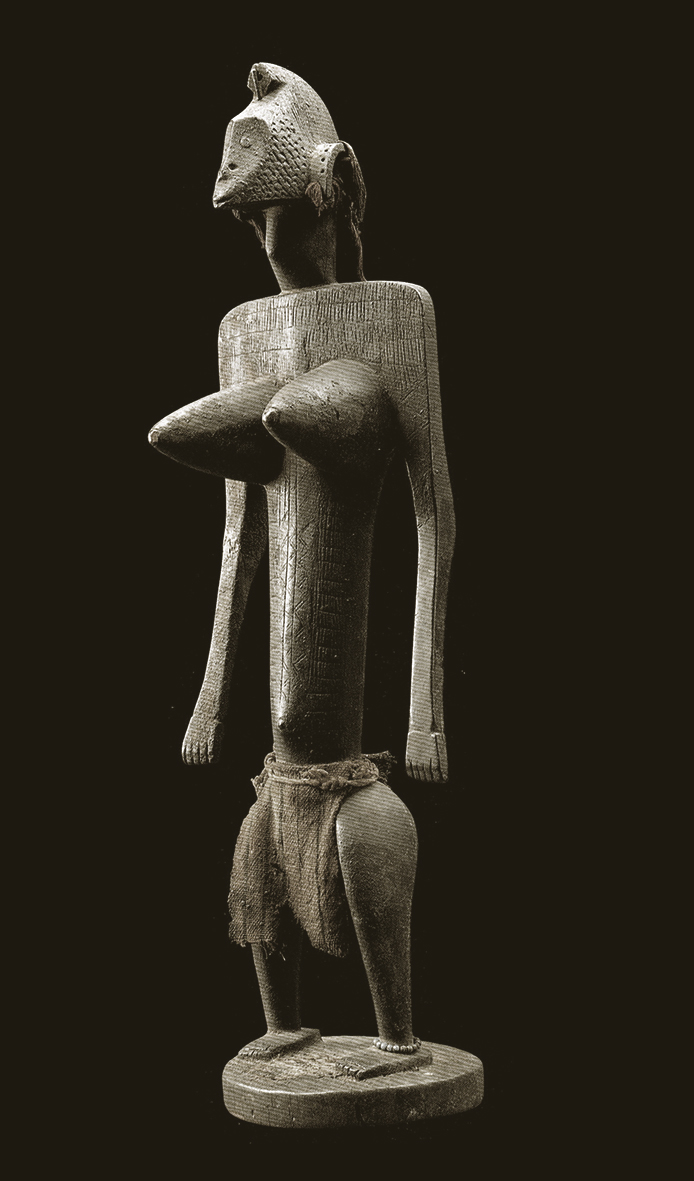 Jean Paul Colleyn, wood fabric, 74 cm, Neighbourhood of Bougouni, Probably prior to 1940.